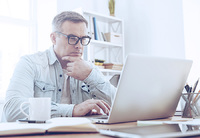 We regard customer privacy as an important part of our relationship with our customers. The following privacy policy applies to all users of our site and conforms to Internet privacy standards. If you have questions or concerns regarding this statement, you should first contact us.
In order to use this website, we may require information from you in order to provide the best service possible. All correspondence may also be collected and stored for a short period of time, particularly in regard to sales, support and accounts, including Email. When you purchase from us PayPal provides us with your name, address, country, postcode (for physical items only). For download, it is optional, as we do not need your address for downloads. We only store your email on our computer for a couple of months and after that, it is deleted. We do not send promotional email to our customers. However, we use your name, address, to send you an email for you to access the product you've purchased.
Any information collected by us is collected via correspondence from you or your company. This may be via Email. If you didn't purchase with us, only used our site to inquire about a product, your email address is deleted, we do not store it. You can contact us by going to our contact us page, where your details will not show up and do not store your information, it complies with the General Data Protection Regulation (GDPR).
You understand that we have contracted with a web hosting company to operate this website, and you understand that they may have access to information about visitors' use of this website and information that visitors submit online. We only contract with reputable web companies to protect your privacy. You also understand that Analytics is installed on our site, which allows us to see a visitor's country of origin or city. We do not use advertising on our site, from third parties.
Any details collected from the customer is required in order to provide you with our products and/or services, and a high level of customer service.
We use the Paypal Payment Gateway for online transactions. Paypal processes online credit card transactions for thousands of merchants, providing a safe and secure means of collecting payment via the Internet. All online credit card transactions performed on Paypal's site, [not on our site] and they have secured payments. We don't have access to your credit card or any other information. After PayPal processed your payment, they send us your email address or address, country, city, postcode and the details of the purchased items which allows us to send them.
- Payments are fully automated with an immediate response.
- Your credit card number cannot be viewed by our site or any outside party.
- All transaction data is encrypted for storage within Paypal's bank-grade data centre, further protecting your credit card data.
- Paypal is an authorised third party processor for all the major banks.